WFS Fall 2011 Events
Concluded Events
THE FUTURIST Magazine Presents: The Immortal Life? An Evening With Aubrey de Grey
J-137 Lecture Hall, Essex Campus,
Community College of Baltimore
7201 Rossville Boulevard
Baltimore, MD 21237-3899
Wednesday, October 12, 2011 from 7:00 PM to 9:00 PM (ET) Co-sponsored with the Community College of Baltimore's Community Book Connection.
Dr. Aubrey de Grey is a biomedical gerontologist based in Cambridge, UK, and is the Chief Science Officer of SENS Foundation, a California-based 501(c)(3) charity dedicated to combating the aging process. He is also Editor-in-Chief of Rejuvenation Research, the world's highest-impact peer-reviewed journal focused on intervention in aging. He received his BA and Ph.D. from the University of Cambridge in 1985 and 2000 respectively. His original field was computer science, and he did research in the private sector for six years in the area of software verification before switching to biogerontology in the mid-1990s. His research interests encompass the characterization of all the accumulating and eventually pathogenic molecular and cellular side-effects of metabolism ("damage") that constitute mammalian aging and the design of interventions to repair and/or obviate that damage. He has developed what he calls "a possibly comprehensive plan for such repair," termed Strategies for Engineered Negligible Senescence (SENS), which breaks aging down into seven major classes of damage and identifies detailed approaches to addressing each one. A key aspect of SENS is that it can potentially extend healthy lifespan without limit, even though these repair processes will probably never be perfect, as the repair only needs to approach perfection rapidly enough to keep the overall level of damage below pathogenic levels. Dr. de Grey has termed this required rate of improvement of repair therapies "longevity escape velocity". Dr. de Grey is a Fellow of both the Gerontological Society of America and the American Aging Association, and sits on the editorial and scientific advisory boards of numerous journals and organizations.
Dr. de Grey will explain: (1) why therapies that can add 30 healthy years to the remaining life span of the typical 60-year-old may well arrive within the next few decades, and (2) why those who benefit from such therapies will very probably continue to benefit from progressively improved therapies indefinitely and will thus avoid debilitation or death from age-related causes at any age.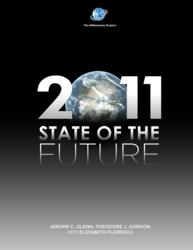 2011 State of the Future
The 15th Anniversary Edition
Tuesday, September 13, 2011
Time: 9 AM Breakfast; 9:30-10:30 Discussion
Venue: 5th Floor, Woodrow Wilson International Center for Scholars
Speakers:
Jerome C. Glenn, co-author, 2011 State of the Future
David Rejeski, Woodrow Wilson Center
Paul Werbos, National Science Foundation
Jonathan Peck, president, Institute for Alternative Futures
Click Here to downnload supporting documents or watch the Webcast
The world is getting richer, healthier, better educated, longer-lived, more peaceful, and better connected; yet half the world is potentially unstable. Food prices are rising, water tables are falling, corruption and organized crime are increasing, environmental viability for life support is diminishing, debt and economic insecurity are increasing, climate change continues, and the gap between the rich and poor is widening dangerously. The world is in a race between implementing ever-increasing ways to improve the human condition and the seemingly ever-increasing complexity and scale of global problems. So, how are we doing in this race? What's the score so far? What are some strategies to improve our prospects?
The 2011 State of the Future addresses these questions with input from futurists, business planners, and scholars around the world, who work for governments, universities, NGOs, corporations, and UN and other international organizations. This year's report has chapters on the future of the Egyptian revolution, 15 Global Challenges, scenarios for Latin America, environmental security, and future elements of arts, media, and entertainment that could better bring what's important for the future of civilization to the public.
"A must read for any decisionmaker" Enrique Peña Nieto, Governor, State of Mexico
"The best introduction to the major global issues and long-term remedies" Global Foresight Books
"Everyone, and I mean EVERYONE, should read this incredible document, period" Technological Forecasting & Social Change
"Invaluable insights" Ban Ki-moon, UN Secretary-General
The Millennium Project was established in 1996 as the first globalized think tank. It conducts independent futures research via its 40 Nodes around the world that connect global and local perspectives. Nodes are groups of individuals and institutions that pick the brains of their region and feedback the global results. It is supported by UN organizations, multinational corporations, universities, foundations, and the governments of Azerbaijan, Kuwait, South Korea, and the United States. (Note: This is not the "UN Millennium Project" headed by Prof. Sachs that produced scholarly papers to address the 8 Millennium Development Goals several years ago.) Copies of the 2011 State of the Future will be available at this event.
Video is available here http://www.wilsoncenter.org/event/report-release-2011-state-the-future
How to Put Your Brain on the Internet (and Would You Want to?)
A Presentation by Michael Chorost, Author, World Wide Mind
World Future Society-Washington, D.C. Chapter
Thursday, September 15, 2011
Dinner Meeting 6:00-9:00 PM
Hilton Garden Inn, 7301 Waverly Street, Bethesda, Md.
Click Here to Register for Future National Chapter Events
You check your smart phone so often that it might as well be a part of your body. Why not skip the tiny screen and clunky keyboard and put your brain directly on the Internet? In this provocative and entertaining talk, author Michael Chorost will show emerging technologies that allow brain activity to be read and altered in unprecedented detail. He'll outline what a future "World Wide Mind" could look like and ask: Would people want to be part of it? Come watch this fascinating talk, replete with audio simulations of what a cochlear implant user hears and videos of cutting-edge neuroprosthetic technologies.
Dr. Michael Chorost is the author of World Wide Mind: The Coming Integration of Humanity, Machines, and the Internet (our June book group selection) and Rebuilt: How Becoming Part Computer Made Me More Human. A graduate of Brown University and the holder of a Ph.D. from the University of Texas at Austin, he has given almost 100 talks on neurotechnology at venues such as Google, MIT, Brown, Duke, and the Brookings Institute. Totally deaf since 2001, Dr. Chorost now hears with two cochlear implants.
Location: Hilton Garden Inn, 7301 Waverly St., Bethesda, MD. (See directions below) Advance paid registration by COB Monday September 12 is strongly encouraged. Register at www.natcapwfs.org/events.htm or by sending a check payable to the World Future Society to John Honig at 7701 Glenmore Spring Way, Bethesda, MD., 20817. Cost of advance registration is $37 non-chapter-members; $27 chapter members; $18 students under 26. Cost after COB September 12 is $43 non-chapter-members, $37 chapter members, $20 students under 26. Reservations may not be cancelled after September 12, and no shows will be charged. Last minute registrants may pay at the door. Please contact John Honig at 301-469-7783 or jhonig@comcast.net with any questions. Note: Due to a requirement from our merchant banker to provide the full billing address for credit card charges, payment at the door will be by cash or personal check only. Those registering in advance may still pay by VISA, Mastercard or American Express.